About
Webinars
Podcast
Blog
Video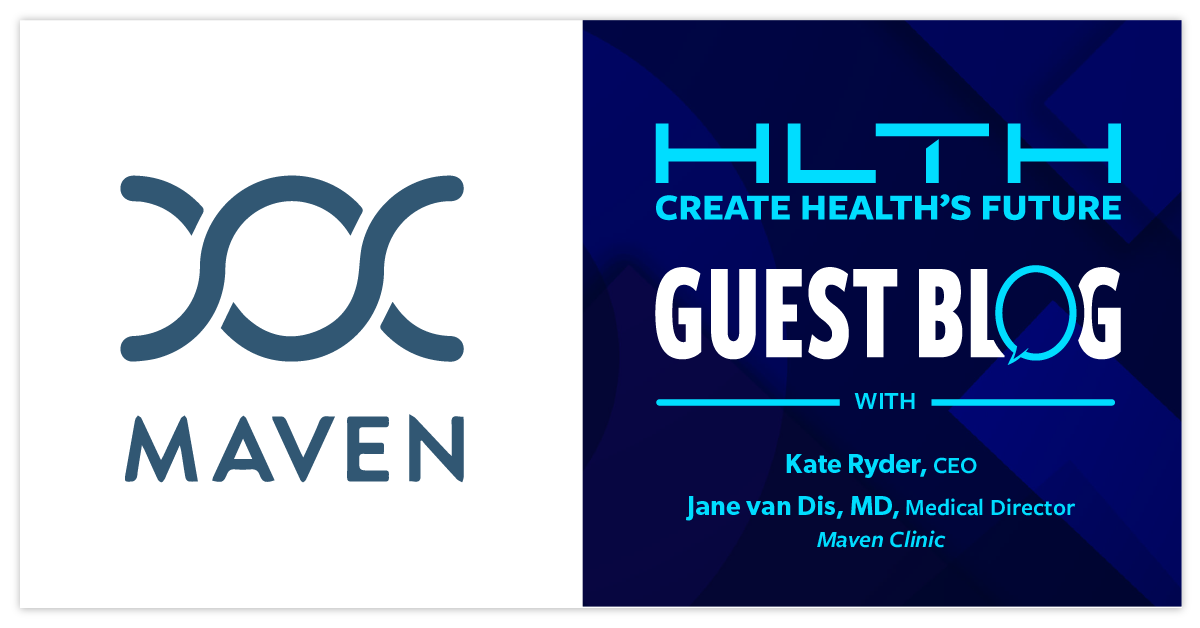 Women's Health During COVID-19 with Maven Clinic
By

HLTH & Maven Clinic

|
April 8, 2020
In response to the COVID-19 pandemic, our team will be interviewing experts from across the ecosystem to bring the HLTH community timely facts and updates.
HLTH Team: How should women delivering in the upcoming weeks think about their birth plans? Should they make any changes?
Dr. Jane van Dis: There are a lot of changes and the important thing to know is that unfortunately, it does change week to week and even day to day. So having said that, I can say with pretty good accuracy that most hospitals are limiting visitors to one partner. From ObGyns I know, there are hospitals in which the timing of when the partner can come to Labor & Delivery has changed as well, really just to limit the amount of potential exposure to the healthcare workforce and other moms and babies. We all know that two weekends ago in some New York City hospitals were banning birth partners, but then reversed that decision.  
I think one really good and important moment out of this series of events is the acknowledgment that support during labor is essential for women and improves their outcomes. Having said that, there are of course times where you might want your partner and your doula as well. The way to bring your doula in the birth room may be through telemedicine or a Facetime platform. So encouraging women to know that as the policies change and as they prepare for giving birth that some of the ways that we reach out to each other virtually for support will be available via telemedicine. On Maven, we have doulas who can be with women during labor, we have certified nurse midwives, and other types of personnel that may be helpful. Encouraging women to prepare for labor and still have the support that they need is essential – even though some of that may be via telehealth. 
HLTH Team: Those are great options! For women planning their delivery, how can they stay safe if the hospital is treating COVID patients as well? 
Dr. Jane van Dis: It's funny, someone said to me the other day they were worried about the potential of contracting COVID while going to labor and delivery. What I will say is that infection control is something that hospitals and practitioners like myself practice everyday and have done so for years on end. We understand how to be safe and how to keep our patients safe. I would encourage women not to let fears about the hospital taking care of COVID patients affect their feelings about whether or not to give birth in a hospital solely based on infection fears. We at hospitals have taken a lot of care and thoughtfulness in terms of our policies and procedures. Infection control is a language that we've always spoken. We will do everything in our power to keep patients safe. Having said that, as the conversation has evolved in the last days around masks, I think that pregnant women can expect that when they come to labor and delivery, regardless of if they have had any signs of symptoms of COVID, they will have a mask on. Their partner will also be expected to wear a mask at all times while in the hospital. This is for the safety of the patients, the newborns and the healthcare workforce. They shouldn't be afraid that everyone in the hospital is wearing masks, that's becoming standard in the last few days and weeks. 
HLTH Team: How about women who are not expected to deliver in the near future - should they expect to postpone prenatal care or OB-GYN visits?
Dr. Jane van Dis: What we're seeing is a lot of consolidation of visits and moving some of the non-essential, in-person visits over to telehealth visits. I saw an algorithm recently from the University of Michigan Department of OB-GYN and then actually had narrowed the number of in-person visits to five. So what you're seeing is that we're looking at in-person visits being ones where key laboratory tests are necessary as well as key imaging studies and really being able to move some of those other visits over to telemedicine. Again, that is to keep the patient and the OB-GYN or midwife safe.
HLTH Team: Can you elaborate on other ways telehealth is aiding women's health during this crisis?
Dr. Jane van Dis: I can not speak highly enough or emphasize enough the importance of mental health care during this time. Even outside of COVID, pregnant women carry a lot of responsibility just being pregnant, knowing that they are bringing a new life into the world. That level of responsibility can feel crushing at times during this pandemic and this sense:  How do you maintain control and how do you feel a sense of well-being when everything around is changing. Whether it's the nature of your prenatal care visits, or your employment and finances, or how many people you had planned on bringing to your delivery, all of that has changed, and know that there will be so moments of anxiety, sadness or grief around all those changes. In addition, I'm sure that some of our pregnant moms across the country know someone who has been sick or maybe even passed away from COVID. There is going to be an enormous need to reach out and I want to encourage all pregnant moms to think about their mental health during this time. 
At Maven, we have six different types of mental health practitioners and they are experienced in women's health and maternal mental health. Recognizing those feelings of anxiety and sadness can be overwhelming and reaching out can be an essential part of your healthcare during this pandemic. 
HLTH Team: I imagine after as well because normally after a birth, your house is flooded with visitors and it may seem a little lonely now, so that seems like a great resource for women. 
How about people planning to get pregnant within the next year? Should they postpone those plans or can they move forward as planned?
Dr. Jane van Dis: I think that's such a good question but it's a really challenging question in part because it's so personal – deciding when to become a parent. What I will say is that the risks due to COVID are small, the risks in the first trimester are around fever. As a women's healthcare provider it's really not my place to say whether someone should or should not become pregnant. I will say if you had a high risk pregnancy in the past, health care and prenatal care services are contracted at this time and that it might be better to wait for your own safety. 
HLTH Team: That makes sense! Outside of pregnancy, what advice would you give women who are seeking care during this time? What would you consider an emergency?
Kate Ryder: All of our providers are not just for pregnancy so anyone can go on Maven and download our app and talk to an OB-GYN, pediatrician, nurse practitioner, and midwife for any number of issues. My 65 year old mother used Maven a few nights ago because she couldn't go in-person and get care so really our telemedicine network is accessible to anyone. 
HLTH Team: And you'd recommend doing that first before going to the ER or hospital?
Kate Ryder: Yes, given the guidance from the CDC and all medical bodies in the government, everyone should try to do telemedicine before ever walking into a clinical environment right now. 
HLTH Team: A lot has been said about the impact of COVID on infants and small children. At first we thought they were immune and now we've seen some cases where that wasn't the case, what generally are you finding in regards to how at risk infants and young children are to the virus? 
Dr. Jane van Dis: This question has to be on the hearts and minds of many and yet the answer's really, scientifically, are not there. We are still trying to answer the question "is it possible for the mother to pass COVID to the baby?" and we just need more information there. When we're talking about pediatrics, for the most part, we're talking about data that we saw coming out of China which was, as others have probably read as well, really good in terms of how sparing the virus was for children. Having said that, we did see 10 month old and 6 month old deaths in the last week due to COVID. I think we just have to wait and get more data in order to be able to answer that question robustly or sufficiently. What we will say is that if you are sick and home with children, there are some precautions you can take to prevent giving the illness to children. 
HLTH Team: In the event where you're a single parent, or maybe your partner is an essential worker, and you do come down with COVID, what tips would you give when you're still caring for your children and also recovering at the same time?
Dr. Jane van Dis: I am actually a single parent, so it is something that I have thought deeply about. I think that the types of tips that you can take are really just to mask yourself at home, if you are positive with COVID. Wash your hands probably more times a day than you ever imagined. We talk about what to do in the setting where a mom is COVID and she gives birth. How does she prevent transmission of COVID to the newborn? The advice there, coming from the CDC is just a lot of hand washing, wearing a mask, making sure not to cough or sneeze on the child. Washing dishes that you might potentially share. Something like that. So I think it just involves a lot of protection of the face and then massive amounts of handwashing. 
HLTH Team: Have they found anything with breastfeeding, is that considered safe for COVID patients to continue?
Dr. Jane van Dis: Yes, so we have no indication that the virus passes through breast milk. So what I have also said to moms who may be COVID positive and are thinking about breastfeeding, is that breastfeeding is actually still the best food that a baby can have. If you want to take all the precautions possible as a new mother, you could potentially pump the breast milk and have someone else in the household feed the baby. Making sure to obviously wash the pump pieces very carefully and even wash the breast with a soft soapy cloth before placing the pump on the breast. But that would provide all the nutritional needs for the baby, keep your milk supply established while still creating some of that physical distance. And we're only talking usually around 14 days for the woman to recover, so I just want to make sure that women know that breast milk is still the best even in the setting of COVID. I worry too we have to think a little bit about the food insecurity that could happen with infant formula. It's possible that there could be limited or no infant formula available in your region or locale. Making sure you have good breast milk if you're able is going to be the healthiest thing for the baby and for the family. Recognizing, too, that some moms have medical complications or multiples (like me, I had twins) and will be unable to exclusively breastfeed.  Knowing that some moms can't always exclusively breastfeed and they will absolutely need to be able to buy formula to feed their baby. 
Team HLTH: That's important to know. Both of you are working mothers during this time, I know it's probably a lot juggling working and then full-time caregiving at the same time. So what advice would you give for parents out there doing the same?
Kate Ryder: Don't be hard on yourself right now. Lots of self-care because you as the mom need to be well to be able to take care of your family. 
Dr. Jane van Dis: I have to give a shoutout. I have the best kids, my daughter is with me right now, and she is so amazingly self sufficient. I am so blessed because I work for Maven during the day and I work at the hospital on some nights and so I am pretty busy too. So thank goodness for good kids and TV. 
Kate Ryder: Mine are three and two, so i think that the advice there also would be schedules. Try to get on a schedule, if your kids are young, as quickly as possible because that keeps their behavior in line. 
Team HLTH: For kids that may start to ask some questions about what's going on right now, for example why can't we go outside and play as usual, see grandma, etc. What advice would you give to parents there?
Kate Ryder: I can speak from the perspective of my kids, my son kind of knows something is wrong, and so I think just always painting a picture of it's all going to be okay. It's so important for psychological safety for kids. Eventually we will be on the other side of this. I think the silver lining of this time, as maddening as particularly your kids can make you, is that families will be closer and at a time when a lot of dialogue in the world is about how apart everyone feels. Some of the stories I was reading out of Hong Kong and Wuhan after 6-7 week lockdowns, is yes there were times of sheer madness and anger and frustration, but there were also a lot of times of love and new habits. You will emerge closer as a family unit whatever your family unit is over the next however long we're here.
Dr. Jane van Dis: One thing that I did, I have asked my kids, if we can, we try to do this as a family, to have daily reflections. We sit in the living room each with our own notepad and write down what we're reflecting on that day in order to sort of coalesce some of our feelings. 
Team HLTH: That's so nice, how old are your kids?
Dr. Jane van Dis: I have 12 year old twins.
Team HLTH: Any other advice that you would give to parents out there, on simply getting through this, whether they are working or potentially laid off from their job during this time?
Kate Ryder: Again, just being gentle with yourself and self care. This is not normal, this is abnormal. And to not think that this is the new normal. Just to remember that there is going to be a time where we're all beyond this. So just cutting yourself some breaks, and trying to see the silver linings.
About Dr. Jane van Dis: 
Jane van Dis, MD is a board certified ObGyn and Medical Director at Maven and has been practicing telemedicine in Women's Health since 2011.  She also works as an OB Hospitalist in La Cañada, California at Keck-USC Verdugo Hills Hospital, and is a founder of TIMES UP Healthcare and CEO of Equity Quotient. She is a single mom to 12 year old twins.  
About Kate Ryder:
Kate Ryder is the founder and CEO of Maven, the leading women's and family digital health company. Working with employers and health plans, Maven closes critical gaps in care with its fertility, pregnancy, and pediatric programs, which improve maternal outcomes, lower healthcare costs, and attract and retain more women in the workforce. During the COVID-19 pandemic, with the largest women's and family health telemedicine network in the country,  Maven has been innovating around the clock to provide high-quality care to women and families in need of more access and support. 
Kate founded Maven in 2014, reimagining healthcare for women and families from the ground up after seeing first hand how the lack of access to care impacted those starting a family and returning to work as new parents. Prior to founding Maven, Kate worked in venture capital and as a journalist, writing for the Economist from Southeast Asia, New York and London and for the New Yorker. Kate has been named to Crain's New York Business 40 under 40 and to Fast Company's "Most Creative People." She lives in Brooklyn with her husband, son and daughter.