About
Webinars
Podcast
Blog
Video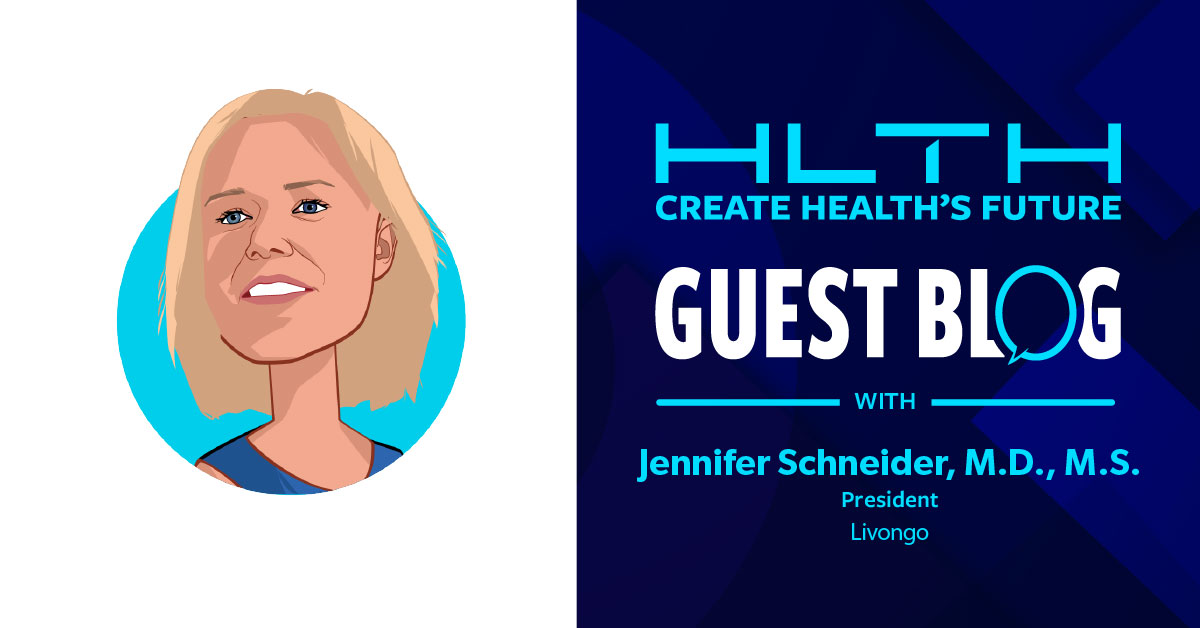 COVID-19 Updates with Dr. Jennifer Schneider: Using Remote Monitoring to Care for People with Chronic Conditions
By

HLTH & Dr. Schneider

|
April 9, 2020
In response to the COVID-19 pandemic, our team will be interviewing experts from across the ecosystem to bring the HLTH community timely facts and updates.
HLTH Team: How is Livongo using technology to address COVID for the hundreds of thousands of your members, specifically those living with chronic conditions? 
Dr. Schneider: As you know, people living with chronic conditions, myself included, were no more likely to get COVID. We are, however, at higher risk from complications. So if you look at death rates, somewhere between 70 and 90 percent of people who die with COVID-19 infections have a chronic condition, depending who's reporting the statistics. So diabetes, hypertension are at the top of the list. So what [Livongo's] been able to do from the get-go is monitor where that vulnerable populations are to and provide care in their own settings. So we're not asking them to come into the healthcare ecosystem. We've just been able to [passively] collect data, provide advice, and nudges and continue monitoring them and connect to live coaches when needed or when necessary. In a setting of COVID-19, we've also launched fifteen unique modules within our behavioral health solution that are beneficial for people in this time of physical distancing, working from home, increased anxiety and stress. So we've added that and continued to deliver our existing services, which allow that vulnerable population to stay in their own house and receive wonderful care. In a way it's better than telehealth in terms of how we are collecting the data. We're not waiting for someone to call us. We're passively monitoring them and collecting their data streams.
Watch the Livongo Live @home, online event, co-presented by HLTH and Livongo for more information on Livongo's COVID-19 capabilities and advice from leading experts on staying healthy. Watch the recording here. 
HLTH Team: What makes the patients suffering from chronic conditions more at risk? Is it a particular characteristic of the virus itself and which chronic conditions are more vulnerable than others? 
Dr. Schneider: Yeah, it's a great question. Nobody knows for sure, but if you look at mortality rates, respiratory illness, cardiovascular, diabetes, there's a CDC website that detects different mortality with each of those chronic conditions. These numbers are constantly changing, but a recent CDC report did show that 78% of people who were admitted to the intensive care unit due to COVID-19 had at least one pre-existing health condition. Now, again, in all types of mortality statistics, it is challenging to determine denominator because we're not testing the whole population, but across the board we are seeing the trend that people with chronic conditions are at higher risk of complications from COVID-19.
HLTH Team: Do you think that your organization is prepared for such a widespread health pandemic? Once you realized that things were going to get bad - what did you do to further prepare?
Dr. Schneider: These are unprecedented times for all of us. From our own employee workforce, we already have a third of our employees working from home - we call them Remotie Nation. So it was an easy transition in a cultural standpoint, to be able to transition the remainder of our employees into a work at home situation. And again, because our product is all about meeting people where they are in their time of need - collecting data, living their life on the go, there were no tweaks to the product's solution as it currently existed because it already addressed many of people's needs when staying healthy and at-home. I often say that the pandemic has accelerated the work that we've been doing and I think made the healthcare ecosystem recognize that remote monitoring and telehealth services are very valuable. Remote monitoring is not a new idea or new technology.  Livongo entered the COVID crisis with over 800 clients and hundreds of thousands of members live on our platform. But [COVID-19] has accelerated the broader adoption and recognition of the value that we play today.
HLTH Team: For companies with remote monitoring and telehealth capabilities, what have been the biggest challenges so far with scaling up operations to meet the growing demands now?
Dr. Schneider: You know, I would say that from our vantage point, we don't have any issues scaling with our supply chain. And we've built our platform on a reinforcement learning platform which allows us to do most of our coaching digitally and deeply understand when members need our human coaching capabilities. And so we can offer that as a scalable solution. I do know that some solutions, such as some of the telehealth vendors have experienced increased wait times. So companies that are highly dependent on human volume or have had their supply chain broken have been hit harder. Those are areas that have some risk. Thankfully, Livongo is not in either of those camps.
HLTH Team: You mentioned your behavioral health solutions before, which are extremely important during these challenging times. What have you seen people utilizing the most for so far? 
Dr. Schneider: We have seen a lot of stress and anxiety come through. We've launched our COVID-19 set of modules and now have made those free to all people nationwide through the end of June. And those include things like living with people in tight quarters, stress and anxiety, working from home. There's a number of those modules within that package. And so that package has seen an uptick in utilization. In addition, when our members with diabetes leverage our solution, they've always been able to address the feeling tag associated with their blood glucose. And we've seen an increasing number of those tags as being stress or with anxiety. And so there's a clear need, which is not surprising all. But I think we're feeling it to some degree greater, less in this ecosystem.
HLTH Team: If we focus on employers and health plans in particular, what do you think their biggest challenges have been so far in facing this pandemic? 
Dr. Schneider: So many businesses have been interrupted. Right. Businesses that rely on daily purchasing, businesses that rely on travel, hotels, airlines. I'm sure you've read about the number of wage reductions and furloughs that are taking place across the ecosystem. There's other industries like healthcare providers, who are looking at protecting the population. You know, my heart goes out to so many of my colleagues and friends who are on the frontlines and really doing incredibly brave work in the pandemic. And so I think each industry or just each company has a different set of areas that are either decelerator or accelerators or different stressors across their employee population. But we hear continuously from all the employers, that they continue to remain focused on their most vulnerable populations, ensuring the safety of that population. And that's where I think we've been able to offer a service that keeps the vulnerable population and people outside the healthcare ecosystem and safely monitored and managed at home.
HLTH Team: Digital health has really stepped up during this time. Do you think that the way people view digital health will permanently change based on this pandemic?
Dr. Schneider: Yeah, I think digital health is a very, very broad umbrella term. Like I said earlier, remote monitoring and telehealth services that can be provided without the need for an inpatient visit, which is both good for the healthcare system and more enjoyable for the consumer. And while very important in the times of a pandemic like we are having now, I do think adoption will just be accelerated. It will be interesting to see which companies are able to scale to meet the demand.
HLTH Team: Once we're on the other side of this crisis, what will be the biggest lessons learned or biggest takeaways? 
Dr. Schneider: As a mom homeschooling three children, I will say that it's amazing what somebody can get done in a short amount of time. My kids have all said to me that in the three weeks that they've learned more French, Spanish, math, geography, in the hours that I get them to work in the house than they do at school. So, there's a realization around the utility of time. Second is our ability to communicate and connect above and beyond in person. The healthcare ecosystem was already shifting and there is now an expedited adoption. Doctors are seeing their patients remotely. I have a friend who's an OBGYN and she knows that she can't do everything she needs, but she can do all the fetal monitoring work for the individual remotely. In many ways, that's a wonderful experience for the expecting mom as well as the healthcare ecosystem. So keeping people healthy where they want to be receiving that care I think is a really great thing. And I think we'll see more of that to come.
HLTH Team: Any other thoughts or advice that you'd want to share with our community? 
Dr. Schneider: Yeah, the last thing I would say is that we are in unprecedented times. Things will forever look different. There will be many new opportunities that come out of this and many wonderful things that are unexpected. I am really honored and humbled by the work that so many people are doing on the front lines. And, you know, I think this is a time where kindness and grace really shows through in both our cultural items that I think will be prominent and more prominent as we come through this together.
About Dr. Schneider:
Dr. Jennifer Schneider is the President of Livongo. In this role, she is responsible for product, data science, engineering, marketing, and clinical operations. Dr. Schneider previously served as the company's Chief Medical Officer where she led the company's strategic clinical product vision, data science, clinical trials, and the organization's certified diabetes educators and coaches. She is the author of Decoding Health Signals: Silicon Valley's Consumer-First Approach to a New Era of Health, which offers a guide to the depth of the chronic conditions problem facing the industry today and explores how companies are using big data analytics and artificial intelligence to reinvent care delivery for people with chronic conditions. 
Prior to Livongo, Dr. Schneider held several key leadership roles at Castlight Health, most recently as Chief Medical Officer. She also has held leadership roles in the provider setting as a health outcomes researcher and Chief Resident at Stanford University, and has practiced medicine as an attending physician at Stanford University, the VA Palo Alto Health Care System, and Kaiser Permanente. Dr. Schneider has an undergraduate degree from the College of the Holy Cross, a Doctor of Medicine degree from Johns Hopkins School of Medicine, and a Master of Science degree in Health Services Research from Stanford University. She completed her internal medicine residency at Stanford University Hospital.
Dr. Schneider is a frequent speaker about innovation in healthcare, where she shares her unique perspective as a practicing physician, health services researcher, senior executive and individual who has lived with Type 1 diabetes for more than 30 years. She has three children and is an avid runner and athlete, having completed her first IronMan in 2016.