Friday, Jul 15, 2022
Spurring Global Connections at the BLUE KNIGHT™ Symposium to Develop Next Generation Preparedness Solutions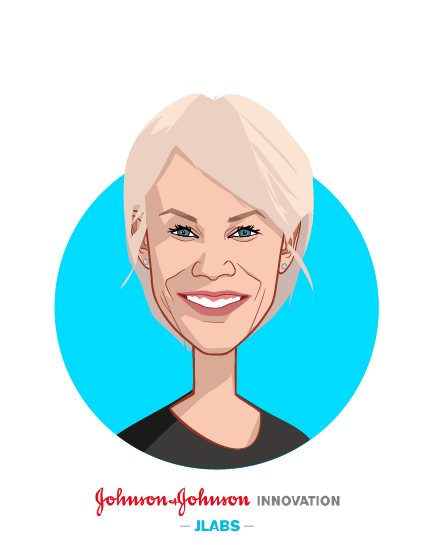 Melinda RichterGlobal Head, Johnson & Johnson Innovation -- JLABS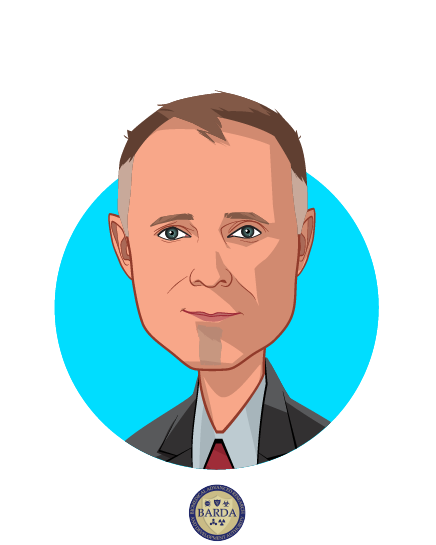 Gary DisbrowDirector, the Biomedical Advanced Research and Development Authority (BARDA), Office of Assistant Secretary for Preparedness and Response, U.S. Dept. Of Health and Human Services
HLTH
 "I'm excited about the science, but if we think about how to keep someone healthy, it takes a massive, multi-disciplinary effort and everyone must do their part. It's not only development and production, but also understanding who is going to use it and how it's going to be used."  
-Matthew Hepburn, White House Senior Advisor, Office of Science and Technology Policy at the 2022 BLUE KNIGHT™ Symposium 
Global preparedness requires global cooperation. As a global community composed of regional innovation ecosystems, we must work together and lean on each other's strengths to respond to emerging infectious diseases more readily. Progress continues as we support novel science and technology through our Blue Knight partnership, including the current Blue Knight QuickFire Challenge which seeks solutions to leverage the microbiome, scale manufacturing of vaccines and/or therapeutics, and target the host response with the aim to enhance preparedness towards future known and unknown health security threats. There are still important gaps to fill towards health security preparedness solutions, especially as we look to accelerate solutions and invest in technologies that support the needs of diverse populations, including at-risk, immunocompromised, geriatric, and pediatric populations. 
Supporting Innovators to "Leapfrog Progress" 
In April 2020, our organizations—Johnson & Johnson Innovation – JLABS and the Biomedical Advanced Research and Development Authority (BARDA), part of the Office of the Assistant Secretary for Preparedness and Response at the U.S. Department of Health and Human Services— announced the global joint initiative now known as Blue Knight. The partnership is dedicated to anticipating potential health security threats, activating the global innovation community, and amplifying scientific and technological advancements with the aim to prepare for and respond to our rapidly evolving global health environment. Today, the program supports a portfolio of 23 companies from around the world and accepts applications on a rolling basis. 
In June 2022, we hosted the second Blue Knight Symposium to discuss the potential of partnerships to accelerate preparedness solutions. Throughout the Symposium, the speakers highlighted the importance of partnerships and support for regional innovation ecosystems to innovate and develop equitable solutions. We heard from both the early-stage companies and the organizations supporting them to bring innovative technologies to patients, such as the work of ENA Respiratory, a Blue Knight company based in Australia, with the Chronic Obstructive Pulmonary Disease (COPD) Foundation, to develop pan-antiviral nasal spray. 
Thriving innovation ecosystems exist around the world, each region harnessing specific strengths. We have the potential to unlock a global force of preparedness by uncovering and accelerating our regional strengths to operate as one. As Kelly Chibale, Professor of Organic Chemistry at the University of Cape Town, noted during the Symposium, "If we harness local innovators appropriately, those innovations are likely to leapfrog progress. This is not something that any region can do on their own. If we couple incentives to entrepreneurs, this is likely that we can co-create the innovation ecosystem." Our Blue Knight partnership is working to do just that.
Health Equity as a Driver for Preparedness for All 
Equitable innovation may be key to shielding global communities from emerging disease threats and eliminating the disproportionate impact of pandemics and emerging infectious diseases on diverse and minority populations. Ensuring that all communities are protected and reaching people as far as the last mile, including rural communities and at-risk populations, is essential when developing potential solutions. 
This sentiment flowed throughout the day as was highlighted by Lisha McCormick, the CEO of Last Mile Health, "Innovation without equity is inadequate. The orientation around collaboration really needs to be to scale impact, not an institution or individual innovation. Fall in love with solving the problem, not the specific tool with which you're committed to solving it." Through Blue Knight, we aim to support the early-stage companies that have done just that—companies solving a problem to address an unmet need.  
Developing Next-Generation Solutions 
Leveraging partnerships and collaborative opportunities are keys to moving forward towards global preparedness. 
As we search to support the technologies that have the potential to create a more secure future from global health threats, BARDA has released their 2022-2026 Strategic Plan, which includes supporting an ecosystem of innovation programs, including Blue Knight. The current Blue Knight QuickFire Challenge is one way to connect with our organizations and provides an opportunity to receive award funding, access to JLABS through a Blue Knight residency, and mentorship from The Johnson & Johnson Family of Companies and BARDA. 
As we look to the next generation of solutions to be accessible to all and help eliminate disparities that may be exacerbated by global health threats, we are seeking technologies that are easy to administer for the intended indications, including orally, nasally, or topically, if applicable; technologies that have the potential as multi-use solutions (indications as medical countermeasures for specific threat areas and for commercial use) or are threat-agnostic; and with a particular interest in technologies aiming to support the needs of diverse populations, including at-risk, immunocompromised, geriatric, and pediatric populations. 
Join Blue Knight and the global discussion on how we can collectively come together to develop equitable solutions towards the known and unknown health security threats of the future. If you're developing a potential solution to solve a problem, reach out to us and watch the 2022 Blue Knight Symposium on-demand today.
---