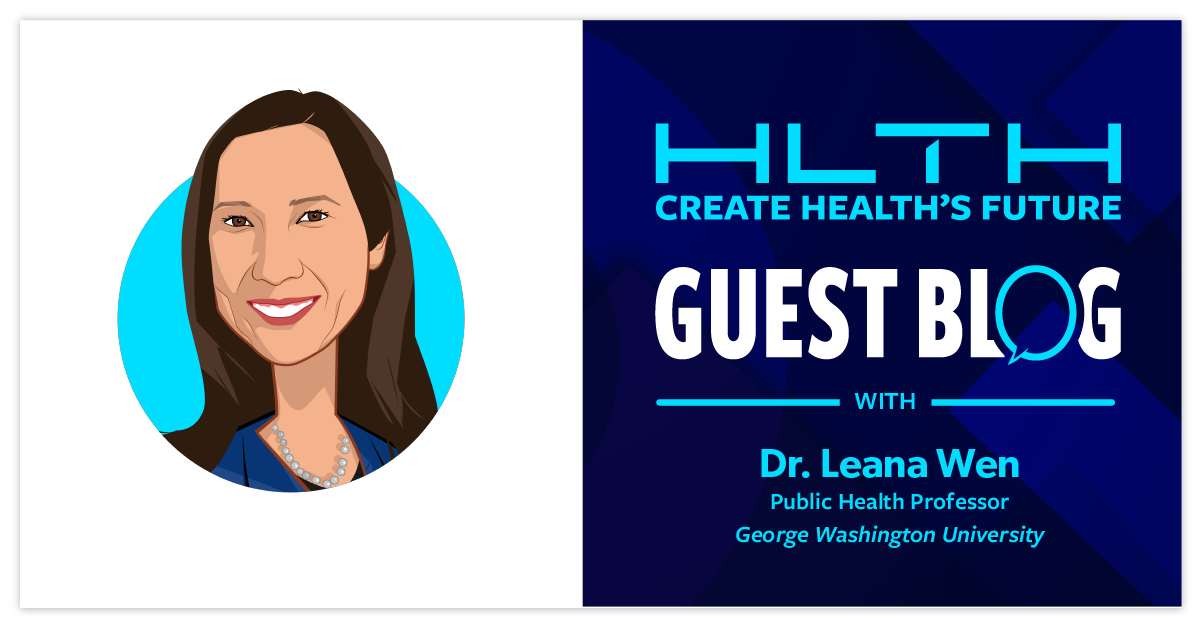 COVID-19 Updates with Dr. Leana Wen
In response to the COVID-19 pandemic, our team will be interviewing experts from across the ecosystem to bring the HLTH community timely facts and updates. 
About Leana Wen:
Dr. Leana Wen is a physician & public health professor at George Washington University. She has served as Commissioner of Health for Baltimore and President of Planned Parenthood. In 2019, she was one of TIME magazine's 100 Most Influential People.
HLTH Team: What is your general sentiment on the current state of the coronavirus in the US and globally?

Dr. Leana Wen: This is a pandemic situation. Things are about to get much worse here in the U.S. Just two weeks ago, we only had 15 cases diagnosed. Now, we have over 1,000. Things in the U.S. will quickly escalate in the next week to several weeks and we have to all prepare and brace for a very challenging time ahead. 
HLTH Team: What is the biggest misconception out there right now?
Dr. Leana Wen: The biggest misconception is that things are fine because many of us are not seeing the new coronavirus, COVID-19, in our communities. But this is the calm before the storm. This is what happened in China, in Italy, in South Korea, in other places where Covid-19 has spread like wildfire and that type of spread is going to happen in the U.S. The best thing that we can do now is to prevent this rapid escalation to avoid overwhelming our healthcare system. We can do that by taking matters into our own hands and each doing what each of us can right now. For example, stay home while we're sick, not going to work unless essential (doing telework when possible), and avoiding large gatherings. If we are employers ourselves or in-charges of planning events, this is a time to cancel all non-essential events or travel and implement social distancing now in our communities. 
HLTH Team: As follow up to that, how can healthcare executives out there contribute to the solution?
Dr. Leana Wen: Healthcare executives are an essential part of the solution. In addition to what they could each do as individuals, as employers they can also raise their voices at this time to help others see why this type of rapid, joint response is so important. And practice social distancing themselves.
HLTH Team: If you are starting to show symptoms or come into contact with someone who is symptomatic, what steps should you be taking? 
Dr. Leana Wen: This is a rapidly evolving situation. As of now, there are not enough testing kits to test everyone that wants to or even needs to be tested. This will hopefully change in the coming days to weeks, but that's the situation right now. If you are concerned about COVID-19, do not go to the ER, do not go to the hospital, do not go out and be around other people. Call your physician right now. You should work with your doctor to figure out your own risk factors, the availability of testing in your area to decide what you should do next. In areas where there is enough testing, your doctor will help, with the public health official in your area, to arrange for that testing. In areas where there is not that capability, you will likely be told to stay at home and recover there. In any case, do not go to the ER or hospital unless you would have gone otherwise—as in if you otherwise would have gone because you're very ill, you should obviously keep going to the ER. But do not go just because you're worried about COVID-19.
HLTH Team: What sources should people be turning to for the most up-to-date information?
Dr. Leana Wen: There is now a website - coronavirus.gov, the CDC website (www.cdc.gov) is also an excellent resource and you should also vigilantly and constantly check the updates for your local health department for updates because there will be specific advice for your locale.
HLTH Team: Lastly, what is the most important piece of information, so a fact or figure that people should be aware of and tracking?
Dr. Leana Wen: Actually, nothing. And here's the reason why - we should not just be reacting to what has happened. We should be anticipating what's ahead. Do not just look at the figures now, the figures right now are misleading. Just because there have been 1,000 diagnosed cases in the U.S. does not mean that that's where we are going. So don't look at where we are now, anticipate where we are going. 
In response to the COVID-19 pandemic, our team will be interviewing experts from across the ecosystem to bring the HLTH community timely facts and updates. About WEGO Health: WEGO Health is a mission-driven company connecting healthcare with the experience, skills and insights of Patient Leaders. We are the world's largest network of over 100k Patient Leaders, working across virtually all health conditions and topics. Our network collaborates with pharmaceutical and life sciences companies, agencies, consultancies, startups and all types of organizations across healthcare. HLTH Team: How has the patient leader community responded to the COVID pandemic? WEGO Team: Having been a part of this community for many years now, I really feel so inspired by the work that all of these patient leaders do. During this recent COVID-19 outbreak, the impact that they have been making has been amplified. It's not only within just their own conditions but to the larger population. Now people are really starting to notice what an important role these patient leaders play. Every day people are drawing on their experience. I really think that patient leaders are teaching the rest of the world empathy, connection, and support in this moment of crisis. For years, they have helped their own communities just survive the uncertainties of their own conditions. So navigating with symptoms, diagnosis, treatment options and negative situations and they have really mastered the art of validating others fears and concerns while proactively suggesting positive approaches that they can do to combat their anxieties and the conditions that they face. They are really now taking these lessons learned from their own communities and applying it to the situation at large. For example - it's not just within the breast cancer space, it's everybody now. They're promoting ways to deal with the negatives creatively and showing people they can still spark joy and do fun things that they used to.  One thing we've been doing here at WEGO Health is we've been hosting zoom roundtables with patient leaders. One of the HIV patient leaders Jesus said in one of the calls "besides what I've been advocating for already, it's really helping people realize there is hope and a light at the end of this tunnel." They're really stepping up helping not only their communities, but the greater good. HLTH Team: That's wonderful! How do you think the role of the patient leader has changed in this time of crisis? WEGO Team: Before now (and of course there are always outliers), a majority of people always stayed within their condition areas. But now, they really are stepping outside of that condition zone, if you will, and helping the broader people. They're recognized as health leaders, so people are coming to them for advice and resources that wouldn't normally come to them. I've heard people say on any given day I have "X" amount of dm's on Facebook from the IBD community, but now I look and it's the IBD community and everybody else that follows me on Facebook and on my private Facebook. These individuals realize these patient leaders are really good at weeding out the fake news and they're really good at asking the right questions. One of the arthritis patients we work with, Maria, on one of our zoom calls said she was saying how she had some of her friends, and they weren't necessary in the arthritis community, following her on twitter and they realized what an expert she's become. She said I realize I have become this safe voice within this conversation because I already know what I'm talking about when it comes to medication and dealing with doctors and dealing with hospitals. So people are coming to me and asking me, "hey can you decode what these CDC guidelines are" or "hey does this treatment really sound like it's going to be effective?" They're drawing upon their experiences to help the broader population.  HLTH Team: How do you think that patient leaders are extending themselves to their communities to cope with this pandemic and remain informed? It would be great to hear specific examples of those who are going above and beyond. WEGO Team: From what I've been hearing, it's a balancing act of wanting to be there for others but then also realizing it's a tough time for them too and staying sane themselves. People are saying they're getting inundated with questions and are only answering questions at a certain point in the day otherwise they'll get so bogged down.  There are some patient leaders within our network that have banned together and started a hashtag campaign for the high-risk community around COVID-19 (#HighRiskCOVID19). This started because at the beginning of all this, the everyday person was saying that you are only at high-risk for COVID if you have a chronic illness or you're part of the elderly population. This spread like wildfire throughout the patient leader community as people were offended saying "hey, we're people too!". They really wanted to educate the general public and to make a point that they mattered too and that yes, they may be high-risk but you can't just negate this. There were then leaders across condition areas who stepped up to start this campaign. They're having anyone who has a chronic illness post a picture and share their story about how they're high-risk. They really wanted to educate the general public by saying "just because you don't think you're high-risk, I look like I'm seemingly healthy and fine but I'm at high-risk. You going out and doing everything you'd normally do is putting me in harm's way." It's been great to see people sharing each other's resources. There have been individuals who have been doing yoga classes on social media or video conferencing as well as people doing meditations. People in cross condition areas are sharing that out to their own communities.  HLTH Team: You mentioned high-risk groups, help us define which particular patient groups you really do consider high risk and that you're particularly concerned about. What advice are you giving them as well? WEGO Team: What I'm seeing in our community is that the majority of the patient leaders that we work with have a chronic illness and if you have a chronic illness, they already take extra precautions even when it's just cold and flu season and making sure that they're staying healthy. I feel like all the patient leaders that we have in our network are just trying to say to their own communities; "be cognizant of your own health issues, be practical, follow the CDC recommendations." If you can stay home, stay home. Above that, I really feel like, in all of the conversations I've been having with patient leaders, they're not necessarily focusing just on high-risk, but they're focusing on educating the general public about how even if you aren't at "high-risk" for getting the virus, you still could be a carrier, you're still putting everyone else in danger of getting this virus. To be smart, to stay at home and to educate them on how it really is affecting everybody. Specifically to your question, how would I categorize high-risk, I would say anyone with a chronic condition. HLTH Team: What has WEGO in particular been doing to engage with patient leaders? WEGO Team: When I look at patient leaders, I really look at them as patients and leaders. They need support on the patient side, and they need support as leaders. So, at WEGO Health, we really try to step up all the time to support them as leaders, but now more than ever, they really do need the support from the other leaders. They're getting so inundated with messages from everybody now, so we brought back regular Twitter chats to bring the community together. We have been holding Zoom calls, so our leaders in our network can come and sign up to get on video Zoom calls and talk to other patient leaders. At first, we weren't sure if people just really wanted the interaction of being with each other, so the first week that we held them, some of the topics that we talked about were specific to COVID-19, then others we made more broad, more like patient leader support type topics. And every single time it always came back to COVID and it always came back to what's going on right now and how they can support each other and support the network. So, I really feel like bringing them together and being able to play off of each other is important at this moment. Someone in the breast cancer community can talk to someone in the fibromyalgia community and they can learn from each other. So, that's been really great to see. And, on our WEGO Health platform, which houses different courses that patient leaders can take to increase their skills as a patient leader. We have discussion boards on there and we also host paid opportunities on there. What we've now done is we've spun up a COVID-19 channel that has specific resources to the patient leaders that either was created by leaders in the network or we've created it. So there are some practical things they can share out to their communities. There are also fun things like, we had the community suggest different songs to put in a COVID-19 playlist - so we've been trying to keep it lighthearted as well. And then, the last thing we've been doing is, we have these WEGO Health Answer sites - they're basically questions and answer sites where regular patients ask a question and a patient leader answers them in video form. It's not live yet, but we are spinning up a COVID-19 specific one. There will be CDC recommendation info on there, but then also patient leaders speaking on behalf of their own communities.  HLTH Team: Anything in particular, you're doing to assist with mental health challenges that your patient groups might be facing right now? WEGO Team: Right now, the zoom calls we're holding I would categorize under mental health. I feel like every time we get off it's almost like a therapy session. Other than that, we haven't been doing anything specific. I had mentioned before there are some patient leaders doing meditations and yoga classes - we've been sharing that out with our network. We've been trying to pull resources that our network has been creating and give it to them. HLTH Team: Anything else you'd want to share with our community? WEGO Health: I love the fact that the everyday person is now realizing how important patient leaders are. Selfishly, I think it's great they can finally get the recognition they deserve! I hope that after all of this, it doesn't just go back to the way that it was, but they really start to lean on these patient leaders going forward for everything. These leaders are there, they're so knowledgeable and they won't be going away after all of this COVID19 craziness dies down.
April 8, 2020