About
Webinars
Podcast
Blog
Video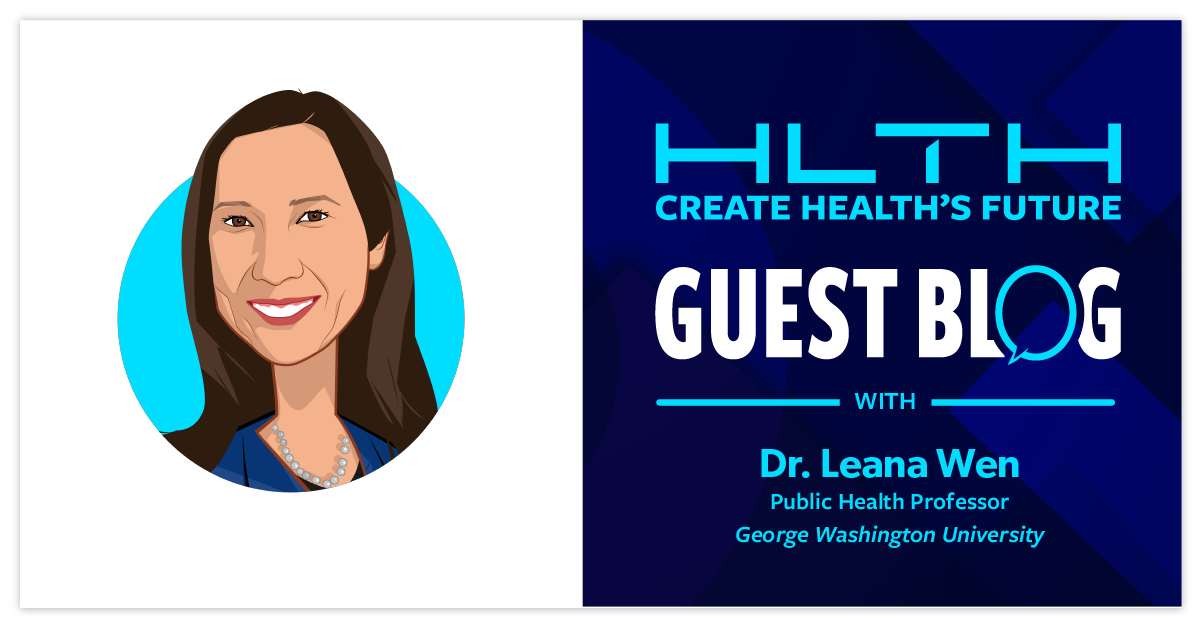 COVID-19 Updates with Dr. Leana Wen
By

HLTH & Dr. Leana Wen

|
March 12, 2020
In response to the COVID-19 pandemic, our team will be interviewing experts from across the ecosystem to bring the HLTH community timely facts and updates. 
About Leana Wen:
Dr. Leana Wen is a physician & public health professor at George Washington University. She has served as Commissioner of Health for Baltimore and President of Planned Parenthood. In 2019, she was one of TIME magazine's 100 Most Influential People.
HLTH Team: What is your general sentiment on the current state of the coronavirus in the US and globally?

Dr. Leana Wen: This is a pandemic situation. Things are about to get much worse here in the U.S. Just two weeks ago, we only had 15 cases diagnosed. Now, we have over 1,000. Things in the U.S. will quickly escalate in the next week to several weeks and we have to all prepare and brace for a very challenging time ahead. 
HLTH Team: What is the biggest misconception out there right now?
Dr. Leana Wen: The biggest misconception is that things are fine because many of us are not seeing the new coronavirus, COVID-19, in our communities. But this is the calm before the storm. This is what happened in China, in Italy, in South Korea, in other places where Covid-19 has spread like wildfire and that type of spread is going to happen in the U.S. The best thing that we can do now is to prevent this rapid escalation to avoid overwhelming our healthcare system. We can do that by taking matters into our own hands and each doing what each of us can right now. For example, stay home while we're sick, not going to work unless essential (doing telework when possible), and avoiding large gatherings. If we are employers ourselves or in-charges of planning events, this is a time to cancel all non-essential events or travel and implement social distancing now in our communities. 
HLTH Team: As follow up to that, how can healthcare executives out there contribute to the solution?
Dr. Leana Wen: Healthcare executives are an essential part of the solution. In addition to what they could each do as individuals, as employers they can also raise their voices at this time to help others see why this type of rapid, joint response is so important. And practice social distancing themselves.
HLTH Team: If you are starting to show symptoms or come into contact with someone who is symptomatic, what steps should you be taking? 
Dr. Leana Wen: This is a rapidly evolving situation. As of now, there are not enough testing kits to test everyone that wants to or even needs to be tested. This will hopefully change in the coming days to weeks, but that's the situation right now. If you are concerned about COVID-19, do not go to the ER, do not go to the hospital, do not go out and be around other people. Call your physician right now. You should work with your doctor to figure out your own risk factors, the availability of testing in your area to decide what you should do next. In areas where there is enough testing, your doctor will help, with the public health official in your area, to arrange for that testing. In areas where there is not that capability, you will likely be told to stay at home and recover there. In any case, do not go to the ER or hospital unless you would have gone otherwise—as in if you otherwise would have gone because you're very ill, you should obviously keep going to the ER. But do not go just because you're worried about COVID-19.
HLTH Team: What sources should people be turning to for the most up-to-date information?
Dr. Leana Wen: There is now a website - coronavirus.gov, the CDC website (www.cdc.gov) is also an excellent resource and you should also vigilantly and constantly check the updates for your local health department for updates because there will be specific advice for your locale.
HLTH Team: Lastly, what is the most important piece of information, so a fact or figure that people should be aware of and tracking?
Dr. Leana Wen: Actually, nothing. And here's the reason why - we should not just be reacting to what has happened. We should be anticipating what's ahead. Do not just look at the figures now, the figures right now are misleading. Just because there have been 1,000 diagnosed cases in the U.S. does not mean that that's where we are going. So don't look at where we are now, anticipate where we are going.